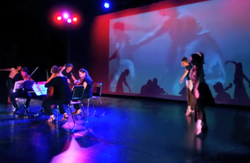 HOMEWARD

Homeward, a film with music and dance, based on the composition "Aheym" by Bryce Dessner of alternative rock band The National, composed for the Kronos Quartet's "30 Under 30" project. This is a collaborative work of driving force and energy.


---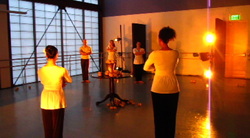 THE LEMON TABLE

The Lemon Table is a dance that is inspired by a broad range of sources, all of which concern themselves with layers of creative decay, aging and renewal. The four sections are choreographed for the full RTMD Company, actress, soprano, female chorus and piano, with design and imagery by Peter Dyer, and set to vocal and choral pieces by Richard Strauss and Sergei Rachmaninov.

Ms. Gately's choreography challenges the audience to sit at the Lemon Table and share in the metaphorical reflections of these artists as they struggled with their diminished talents, hopes, lives and desires. The Lemon Table was performed in its original incarnation at The Atlanta Ballet June 9th through 11th, 2011. The revision incorporated in this proposal will be a revision of the chorography within the original structure.

---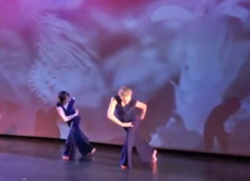 CRAVE RADIANCE

Crave Radiance is based on poetry selections by contemporary American poet, Elizabeth Alexander, from her collection, "Crave Radiance." (2010). Ms. Alexander is currently chair of the African American Studies Department at Yale University. Visual sequences of mixed film and photo-montage frame the setting for the dance. Music and oration will, in the tradition of Room To Move Dance's performance measure.


---
SOUTHERN SIGNS

While driving around the Southern American countryside it is fascinating to see what signs and signage represent about a place. They are, to mangle a few metaphors, like bookmarks stuffed in a novel, unfinished by a reader who has abandoned the effort, and moved on. They indicate broad dreams, bold, uniquely American statements, the crudely obvious. Sacred or profane, it seems every one declares their enterprise and the fortunes befallen on them, imagined or real, very publicly for a drive by audience.

Southern Signs collects these stories from the skyline, through pictures and photographs. The collection is not directed to curiosity for the real stories that lie therein, but work on the premise and portent of the imaginary story that the sign itself can tell: Kingsland, Florida, a neat red and white lettered sandwich board declaring "Dead People's Things For Sale" outside a pawn store. Further along the same road, the Georgia Girl Drive-in, rusty and abandoned, its neon broken, but still redolent of its rounded Fifties origins, gives more to the imagination to conjure. There is a sense of the community that the signs together foretell to a bystander. The story of the community itself is another tale to tell.

Collecting Southern signs means many trips down half forgotten byways and state routes, just to meet the signs and document what they say. The basic methodology is to drive, scour a town or area, with either a plan in hand (some long lost motel postcard, a suggestion from a friend) or at random, hoping to get lucky. After all, isn't that what the signs promise? If luck holds, rich treasures: Dublin, Georgia, waved its arms from the roadside. Who welcomes their customers to Grumpies Restaurant? What strange appliances do Strange Rentals lease? Who lives in the little turquoise, brick built garret and who gets their hair cut at Markel's?

The gathered provenance of these images from Southern Signs and their imagined stories is designed to fire the imaginations of others – providing a backdrop and framework that seeks to tell something about community as a whole, real or dreamed.

---