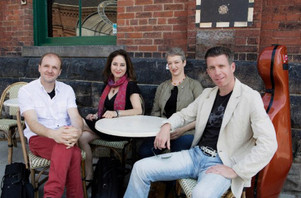 The Penderecki String Quartet

The Penderecki String Quartet is one of the most celebrated chamber ensembles of their generation. The Quartet's performing schedule takes them annually to concert stages across the Americas, Europe and Asia. The Penderecki musicians bring their varied yet collective experience to create performances that demonstrate their "remarkable range of technical excellence and emotional sweep" (Toronto, Globe and Mail). The Penderecki String Quartet appears extensively in Canada, participating in this country's foremost concert series such as the Ottawa Chamber Music Festival, Festival of the Sound, the Banff Centre, and Toronto Luminato Festival.

Described by Fanfare Magazine as "an ensemble of formidable power and keen musical sensitivity", the Penderecki Quartet's large discography includes over three dozen recordings. Their disc of Marjan Mozetich's "Lament in the Trampled Garden" won the 2010 JUNO Award for Best Composition. The Penderecki Quartet excels in exploring new music collaborators, recently appearing with jazz saxophonist Jane Bunnett, Brazilian jazz pianist Egberto Gismonti, pipa virtuoso Ching Wong, The Pentaedre Wind Quintet, actor Colin Fox, and, of course, Room To Move Dance. Formed at the Szymanowski Academy of Music in Katowice, Poland in 1986, the group found quick success as winners of the Penderecki Prize at the National Chamber Music Competition in Łódz , Poland. In the same year, they received scholarships to further their studies as assistants to the Fine Arts Quartet at the University of Wisconsin. In 1991, the Penderecki Quartet moved to Waterloo, Ontario to become the Quartet-in-Residence at Wilfrid Laurier University. Now 21 years later, the Penderecki Quartet continue as active members of the Faculty of Music at Laurier and have built the string program to be one of the top programs in Canada.


---